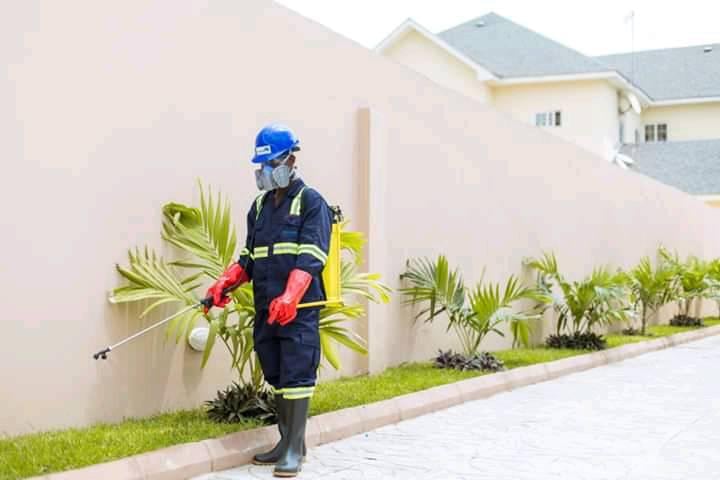 Professional Fumigation and Pest Control Services In Nyeri.
At GM Pest Control in Nyeri, we offer a number of services with a warranty for our work. We will respond to your concerns in a timely manner, and we might offer suggestions to help us do so.
We may recommend corrective actions to our clients in order to ensure that our services are being carried out as efficiently as possible. We will assist in providing any information required to address these issues, and we can perform minor repairs (for which a fee might be charged) or provide additional services to address the problems that are currently upsetting you. In the event that the task is too sophisticated or difficult for you to complete yourself or for our personnel to handle, we have a few affiliate contractors that we trust and may recommend them to help you.
These guidelines must be followed in order for your guarantee to remain valid, and we will make every effort to alleviate your worries as much as possible while resolving the problems you hired us to address.
Our guarantees cover initial infestations found during the initial inspection up until clear proof that the problem has been cured as shown by ongoing monitoring or follow-up inspections.
For the duration of the warranty period, we guarantee that if we are unable to address your concerns within the initial service interval specified by your technician, we will continue to follow up with intervals tailored to the pest with our best efforts to treat and follow up until the pests are gone, at no additional cost.
Within the County of Nyeri, service guarantees are provided free of charge. With one exception, fees for rural areas outside of Nyeri are estimated at a cost based on a treatment plan typical of the target pests and the degree of infestation. The client is not charged for any services rendered or time needed for extra treatments while on location as part of the service guarantee. It may still be necessary to pay an additional labor fee and a fuel surcharge . This is for additional follow-up care beyond the basic treatment plan determined at the initial consultation or quote, as well as travel expenses to rural areas. There is no charge for the additional work or service rendered, the follow-up examination, the remedy, or the additional goods used to address the problem.
Bed bugs Control Services in Nyeri.
One of the most difficult pests to manage in the pest management industry is bed bugs. Did you realize that you might pick up a hitchhiker and still expose yourself to bed bugs? Everyone is susceptible to contracting bed bugs; cleanliness and living conditions might contribute to the delay in the discovery of an infestation. When you ask multiple service providers about bed bugs, you'll get a lot of conflicting information, which can be stressful. Trust us; we are knowledgeable. Due to the fact that each circumstance is different, we provide both categories of service. Regardless of the service you choose, preparation must be finished before we may start treating.
Applications for Chemicals:
In cases when the infestation is mild or financial restrictions are an issue, we can apply chemicals inside your home and will:
Any furniture your technician recommends wrapping and preparing for disposal.
Utilize a commercial residual pesticide with an infestation-destroying rating.
Insect monitors should be placed around the perimeter of your home so you can keep an eye on activity levels for up to 90 days after we've sprayed.
Cockroaches Control services in Nyeri.
Procedures for residential service:
Gel therapy for cockroaches
Preparation is not required.
The Maxforce Impact cockroach gel is used to treat upper and lower kitchen cabinets as well as bathroom cabinets and vanities, along baseboards, and in and around appliances.
This solution is made specifically to control cockroaches and has no scents or fumes.
You can stay in your home.
Treatment for cockroaches: Spray and flush
Prior to therapy, you must get ready (see our preparation instructional sheet for details).
Spray crevices along baseboards throughout the entire house, and treat all crevices and cracks in the upper and lower kitchen cabinets as well as the bathroom cabinets and vanity.
Flush out all hollow spaces in appliances, including coffee makers, microwaves, refrigerator motors, stoves, and other deep crevices in bathrooms and kitchens.
Termites Control Services in Nyeri.
We offer a remedy for any crawling insect, including ants, carpenter ants, cockroaches, sowbugs, silverfish, beetles, stored product pests (Indian meal moths, flour beetles, weevils, etc.), centipedes, and carpet beetles. Climate conditions can have a significant impact on your home, and sanitary issues might lead to unfavorable circumstances on your property. We'll identify the factors causing your issues and identify a fix that ends the problem permanently.
Payment Is Per Visit*
We provide a range of crawling bug services, including but not restricted to:
Identification
Exclusion
Knockdown/Removal
Prevention
application of chemicals or baiting
Mosquitoes Control Services
It seems like mosquitoes, a common summertime annoyance, may easily ruin a backyard BBQ or even the nicest trek through the most picturesque Canadian woods with their itching, annoying bites. The mosquito has easily adapted to life in Kenya and can now easily spawn in a number of locations, essentially anywhere there is water. There are more than 3,000 different mosquito species in the world, each with distinct mating and feeding patterns. They tend to feed quite near to where they breed (within a 30-meter radius), although they will fly up to 2.4 kilometres to feed their voracious appetite.
A customer consultation and thorough exterior home inspection are the first two steps in the Truly  GM service. The technician will be on the lookout for potential breeding grounds for mosquitoes. While stagnant water is the best place for mosquitoes to grow, they can also do so in places with little moisture, such as sprinkler heads or in algae buildup in gutters that aren't properly managed.
You will be invited to join in the inspection process by your certified GM pest professional, who will also take detailed notes all throughout. The specialist will create a special action plan to combat mosquitoes in your particular circumstances when the examination is over. At the conclusion of each session, your GM specialist will summarize all the results and clearly explain the recommended course of action to you, taking into account any queries you may have along the process.
All year long, GM can assist you in lowering mosquito populations. During the busiest mosquito season, GM offers quarterly treatments and monthly service visits. In high-moisture environments, granular and liquid material applications are used to prevent mosquito larvae from growing. Water that is still or stagnant makes the perfect nesting ground for mosquitoes. As part of the control, GM also offers sanitation and exclusionary measures to clear the home's surroundings of mosquito-active regions.
Keep windows and doors shut or tightly screened in.
At night and dawn, mosquitoes are most active. Try to stay inside if you can. If you really must be outside, dress modestly by donning light-colored clothing, long sleeves and slacks, socks, and shoes. DEET-containing insect repellent should be applied to skin and clothing.
Remove any standing water from your yard, particularly after it rains or the sprinklers are on. Get rid of trash or things that can hold standing water like bottles and cans, coolers, old tires, buckets, plastic swimming pools, pool covers, flowerpots, or birdbaths.
Don't let water accumulate on patio covers or tarps that cover your vehicle or boat
Repair leaky pipes
Maintain and clean roof gutters
Rat Control Services in Nyeri
Rapid infestation by rodents is possible. There are numerous factors that can make mice a problem. Remove Mice. Reserve Now. When dealing with mice, we search for the problematic structural flaws in your home. If the problem is minor, we can make repairs and solve it.
To get rid of your rodent infestation, we combine traps and rodenticides in a responsible and safe method.
To guarantee that we lower the danger of non-target life being exposed to our goods, all baits used on site are utilized in accordance with the tight regulation criteria indicated in their labels. Do you have kids, pets, or delicate regions on your property? We'll make sure to use prudent precautions to reduce risk to your property, business, and health.
We provide rodent services and rely on the following:
Exclusion and prevention
Simple fixes to stop re-infestation.
catching and eradicating snaps
Interior baiting may be necessary, including the use of tamper-resistant bait stations and/or attic and crawlspace baiting.
Using Tier 1 compliant, anchored, tamper-resistant bait stations while exterior baiting.
Fumigation and Pest control services prices in Nyeri.
| | | |
| --- | --- | --- |
| PEST TYPE | NO OF ROOMS | PRICES/KSH |
| CRAWLING PEST (bed bug, roaches, ants, spider, flea | 1 | 4500.00 |
| | 2 | 6,000.00 |
| | 3 | 7,000.00 |
| FLYING PEST( mosquitoes, bees, bats, wasp, flys, month | | |
| | 1 | 5,000.00 |
| | 2 | 7,000.00 |
| | 3 | 9,000.00 |
| RODENTS (rats, mice, squirrels, moles, snakes | | |
| | 1 | 4,000.00 |
| | 2 | 5,000.00 |
| | 3 | 6,000.00 |
| COMMERCIAL PEST CONTROL /FUMIGATION SERVICES | | |
| Per square meter | | 25.00 |
GM fumigation and pest control services facebook