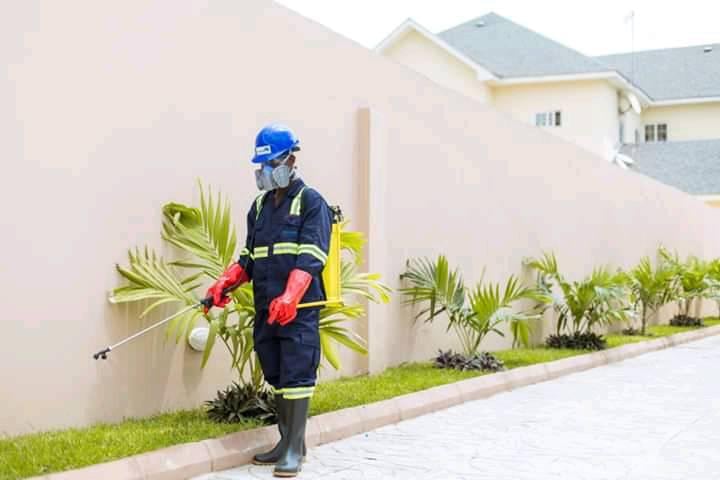 Professional Fumigation and Pest Control Services In Mombasa.
GM Pest Control Services Mombasa was founded in 2012 with the goal of offering its clients reliable, friendly, safe, and efficient service. The management of pests has been a focus of GM Pest Control Services Mombasa for more than 10 years. We provide our customers with professional, friendly, trained and uniformed technicians. We offer complete pest management programs to residential, cottages, restaurants, health care facilities, food processing plants, retail, and all other commercial properties.
GM Pest Control Services offers pest control programs for every type of pests, including all insects, rodents, birds and wildlife. All pest control procedures are performed discreetly, safely and professionally. Our reputation for reliability and great customer service will assure your complete satisfaction.
We want to express our gratitude to each and every one of our clients for their support of our business, their investment in our services, and all of their past recommendations. We appreciate your business and look forward to soon securing your properties.
You may be sure that you'll get the best service possible because to our reputation for dependability and excellent customer care. Trust a business that takes great pleasure in its superb services and exceptional customer satisfaction if you value your property and want to keep it in perfect condition. You don't have to deal with a pest issue.
To put it mildly, pests that live in homes are cunning creatures. Usually, when we become aware that they are residing in our homes, we realize "We have a pest problem." A cockroach, rat, mouse, bed bug, termite, or other form of unwelcome pest, on the other hand, indicates that they have already made your home their home. To get rid of them, use professional residential pest control services. Particularly if you've already tried other homemade cures without success.
You are not alone; millions of Mombasa residence fight every year to keep ants, termites, bed bugs, cockroaches, mice, and rats out of their homes. Our domestic pest control services can be the finest option in this situation.
Whether you've only recently started to notice a cockroach, ant, rodent, termite, or bed bug problem, or whether it has become a persistent pest issue. Pests can be completely eliminated using GM Pest Control Services effective tactics created especially for residential pest invasions and infestations.
Bed bugs Control Services in Mombasa.
Are you looking for a reliable and reasonably priced bed bug eradication service in Mombasa, Nyali, Bamburu, Chana, or nearby cities?
a bed bug (also known as wall-lice, lectulariu, Cimicidae, mahogany flats). The Cimicidae family of insects, which predates modern bed bugs by about 115 million years, is its ancestor.
All of this simply means that they have existed for a very long period and need professional removal and elimination methods because of this.
It is thought that increased global travel and immigration from developing nations are to blame for the rise in bedbug populations in Mombasa, which started in the 1980s.
Complete bed bug removal necessitates a planned strategy that includes identifying the location of the infestation in your house, how it got there, removing it, correctly preparing the area before application, and what you can do after our pest control experts perform bed bug removal service.
Bed bugs are a small, wingless kind of insect. They typically reside inside a bed's box springs, in linen, mattress pads, pillows, and seams, behind wallpaper, and in electrical outlets, despite the fact that they can blend quite well and are difficult to notice.
Vacuum frequently in the aforementioned locations to prevent the infestation of bed bugs. Clear the area around the items they are typically located in of clutter. Make sure to thoroughly inspect and clean any furniture or household goods you intend to buy before bringing them inside your home. Find out more about bed bug prevention.
Whether you've had bed bugs for a while or they've become an infestation, GM Pest Control Service can help by offering comprehensive bed bug removal services
Cockroaches Control services in Mombasa.
With our high-quality cockroach services in Mombasa—which are also reasonably priced—you'll get the outcomes you deserve. On every task, our skilled team of experts brings their expertise and experience. But our attention to detail and openness to the particular requirements of each client really set our services apart from the competition in the market.
In the Kenya and Mombasa to be specific , the German cockroach is a typical household pest. German Cockroaches have fully formed wings and are light brown to tan in color. However, they will dwell anyplace there is food and water. They typically infest kitchens and toilets. They are brought into your house infected sacks and cardboard boxes. Additionally, German Cockroaches may be hiding in old appliances like microwaves, toasters, and refrigerators.
The ability of roaches to contaminate food, food preparation areas, and a variety of diseases and illnesses makes them a known public health concern. Roaches have been linked to both adult and pediatric asthma cases. Additionally, salmonella, shigella, staphylococcus, streptococcus, coliform bacteria, and E. coli have all been linked to roaches. As soon as cockroaches are discovered within the home, it is crucial to have a pest management expert diagnose and treat cockroach infestations. To completely get rid of this extremely harmful insect from your house, it may require numerous treatments using a very thorough crack and crevasse treatment.
Termites Control Services in Mombasa.
GM Pest Control has more than 10 years in the business exterminating problem pests that do damage to your home or business. We take extra care to eliminate the overall termite problem on your property because we know how they work.
The timber structure of a building can be rapidly destroyed by termites.
They grow more quickly than you might expect, and if left unchecked for an extended period of time, they can turn your house or place of business into an unsafe fortress. By using safe pesticides to eradicate termite colonies when they infest your home, GM Pest Control stops that at its source.
Every time you call GM Pest Control, we go above and beyond to provide you with a thorough termites control services.
Ants and insects Control Services
Your home could be invaded by hundreds of ants!
There might be an additional host marching around the interior of your walls unnoticed for every ant that you witness scurrying about your house.
Many people believe that they are merely obtrusive black and red bandits who steal your picnic food.
They are completely mistaken.
Ants can seriously harm your infrastructure in addition to eating any abandoned food. For example, carpenter ants, which devour the wooden beams that form the structure of your home, cause more harm than termites.
Utilize GM Pest Control's first-rate services to eliminate the problem.
Our skilled specialists are aware of how to eliminate ant colonies and prevent their re-colonization.
They create an unpleasant, unclean environment that is repulsive to everyone, and they can also spread disease and bacteria. These unwanted visitors might walk around your property carrying diseases including West Nile Virus, Encephalitis, Dengue Fever, and dysentery.
We have the answers at GM Pest Control Mombasa.
We are familiar with how insects function and the pest life cycle. Using natural and organic insecticides as well as tried-and-true techniques, we eliminate them at the source. Our skilled professionals specialize in elimination and control, and they guard against future intrusions at your home's entrance points. We have a ton of experience, and we'll use it for your benefit to get rid of pest problems in your home.
Rat Control Services in Mombasa
Complete rat extermination and removal services are provided by GM Pest Control Services. We can assist you with eliminating suspected infestations from homes, businesses, warehouses, schools, and restaurants when you need rat control services. Call 0721-979-781 to speak with us about our many years of experience, complete insurance, and bonding.
While certain rat species can be maintained as pets, the majority of rat species are vermin that spread harmful viruses, carry germs, and are tick carriers. So much so that the Black Death and bubonic plague caused by these parasites nearly wiped out 25 million people worldwide.
There are thousands of documented incidents of humans dying from diseases carried by rats and mice, even though the Black Death is no longer a threat. Rats continue to infest homes and cause deaths due to their constant reproducing.
Recognize that these pests shouldn't be treated carelessly or disregarded, and act quickly to get rid of any rats you suspect are there. In essence, you and your family are in too much danger due to rats and mice. Contact a your local GM  rat exterminator right away!
Fumigation and Pest control services prices in Mombasa.
| | | |
| --- | --- | --- |
| PEST TYPE | NO OF ROOMS | PRICES/KSH |
| CRAWLING PEST (bed bug, roaches, ants, spider, flea | 1 | 4500.00 |
| | 2 | 6,000.00 |
| | 3 | 7,000.00 |
| FLYING PEST( mosquitoes, bees, bats, wasp, flys, month | | |
| | 1 | 5,000.00 |
| | 2 | 7,000.00 |
| | 3 | 9,000.00 |
| RODENTS (rats, mice, squirrels, moles, snakes | | |
| | 1 | 4,000.00 |
| | 2 | 5,000.00 |
| | 3 | 6,000.00 |
| COMMERCIAL PEST CONTROL /FUMIGATION SERVICES | | |
| Per square meter | | 25.00 |
GM fumigation and pest control services facebook