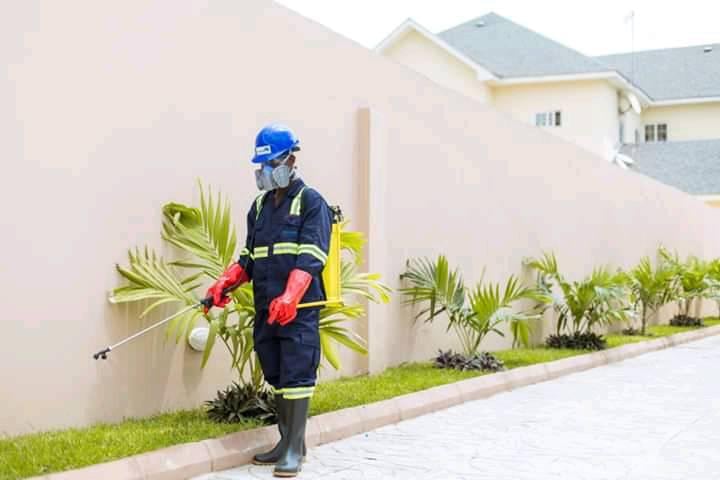 Professional Fumigation and Pest Control Services In Kiambu.
GM Pest Control is a professional registered pest control company created to provide customized pest control solutions in Kiambu.
A pest infestation can be a major issue for your company, endangering your employees' safety, inflicting structural damage to your property, and damaging your brand's reputation. As a business owner, you must also ensure that your structures abide by a variety of laws.
In collaboration with you and in accordance with all relevant legislation, our professionals at GM Kiambu will develop a personalized, integrated pest control program based on your unique needs. We provide the best available solutions, regardless of the pest or your company.
You can count on working with the best when you partner with GM Kiambu. The constant, practical assistance and high-quality service you've come to expect from GM are available through our national accounts program. Additionally, you will benefit from unparalleled reporting and openness that keeps you informed.
Bed bugs Control Services in Kiambu.
Even the cleanest establishments can be infested with bed bugs, which are still a concern in Kiambu. Any sleeping visitors will be bit and fed on by bed bugs hiding on your property, thereby ruining your business's reputation. The bed bug canines that GM Kiambu uses are highly trained and third-party accredited, and they do preventative examinations. 
A variety of encasement materials are available from GM Kiambu to help prevent the spread of bed bugs, safeguard your beds and furniture from infestations in the future, and protect them from dust mites, pet dander, pollen, and other allergens. By assisting in lowering your exposure to these irritants, encasements encourage healthy living.
Cockroaches Control services in Kiambu.
For many homeowners, cockroaches can be a common intruder. Because they feed on organic matter that is contaminated with germs and is typically found in garbage cans and other waste containers, these pests are unhygienic. A single cockroach can breed and grow into an infestation very fast because of their feeding habits and capacity for rapid reproduction. The worst part is that although appearing innocent, these bugs can spread viruses that could be harmful to you and your loved ones.
It is crucial to contact your nearby GM Kiambu branch for reliable, effective cockroach control if you want to prevent a protracted infestation. From thika to Thidigua,from Kikuyu to kabete ,GM Kiambu provides efficient comprehensive cockroach management and control.
Every cockroach control program offered by GM Kiambu begins with an initial inspection. The areas surrounding your home will be examined by your GM Kiambu cockroach control specialist to better understand the following elements:
the type of cockroach infestation in your house
how badly infested your land is
What are some of the factors that might be luring cockroaches to your property and keeping them there?
easy access to supplies of food and moisture
Areas with ideal harbors (living spaces)
Issues with cleanliness or more clutter
structural difficulties
After the inspection is complete, your GM Kiambu cockroach control specialist will explain their findings and offer educational materials to help you better understand why cockroaches are on your property and what steps you can take to avoid a repeat infestation.
Termites Control Services in Kiambu.
Subterranean termites in particular may wreak havoc on your property and cost millions of dollars in damages every year. Termites can cause enough damage to your home's structure that it becomes dangerous to dwell there, endangering your family's safety as well as theirs.
You need a group of experts to ensure your termite infestation is effectively treated if you want to get rid of these pests from your house.
How GM Kiambu Manages Termite Issues
By carefully identifying and treating potential nesting sites for termite colonies, GM Kiambu provides high-quality termite control services. You may relax knowing that your termite infestation will be effectively managed.
Applying this termite treatment around your property is a low-toxic choice. Within hours, Altriset liquid termite treatments stop termite feedings, limiting damage to your house. When used in accordance with the label, Altriset also destroys termite colonies in less than three months and will protect your house for more than five years, guaranteeing that you have long-term termite protection. The non-repellent formulation used in Altriset liquid treatments is frequently applied to typical termite food sources and makes it simple to disperse throughout the termite colony, guaranteeing that you notice results more quickly.
For difficult-to-reach areas where mud tubes may be present, foam treatments are utilized to address gaps in interior and exterior walls, around heating ducts and water pipes, under slabs, and in other locations. The ideal method for adding an extra layer of defense against termite infestations is to use these foam treatments. Our foam's low moisture content eliminates any chance that it will soak through drywall and leave behind harmful damp areas.
GM Kiambu's Response
The strategy used by GM Kiambu is both innovative and successful. A personalized treatment plan is developed by our qualified GM Kiambu experts just for your home.
Step 1: Evaluate
An home will be thoroughly inspected by your GM Kiambu professional, who will look for common termite hotspots. These spaces can include your crawlspace or basement,
GM Kiambu uses efficient, contemporary tools and trained professionals to identify termite activity. When our professionals are through, you will receive their advice along with an GM Kiambu Termite Inspection Report that details any issues and a suggested termite protection strategy.
Step 2: Carry out
Your GM Kiambu professional will go over the best course of action if they discover a termite infestation or the possibility of one.
Treatment with liquid altriset
This course of treatment provides both rapid and long-term defense against infestation.
Foam remedies
Foam treatments from GM Kiambu are perfect for adding a layer of security to those challenging-to-reach areas.
Step 3: Watch
Your GM Kiambu technician will follow up and assist in protecting you following your treatment.
Snakes Control Services
Services for Snake Removing in Kiambu
It's wise that you have contacted GM Wildlife Removal Inc. for snake control services if you have discovered a snake living inside your home and want it removed. We  use chemicals or extermination methods; moreover, we offer a removal and preventive service that is up to industry standards and ensures that snakes won't be able to enter your home again.
Since snakes are typically very sensitive to human presence, they are difficult to see after they enter your home and may not even be aware that they are there. But once you do, it will undoubtedly make you nervous.
Despite the fact that the vast majority of snakes in Kiambu are absolutely harmless, there is a chance that the snake you have seen is a poisonous species, in which case you must take the appropriate safety measures to protect your family and pets. A snake encounter is not worth the risk of being bitten by a hazardous snake. Snakes frequently gain access to homes through the gaps in weeping bricks.
You should employ us for a snake removal task for a few important reasons, and they are as follows:
If an Kiambu-based Mississauga rattlesnake enters your home, you run the risk of getting bitten by its deadly fangs.
they publish progressively severe threats to children and pets.
They might bring bacteria into other areas of your house if they come into your house looking for food, like mice or birds.
You could get bitten by any kind and need medical care for it.
They might sleep where we put our feet or walk, which would scare a family member to death.
Snakes expressly exhibit greater fear of people and animals than we do.
Rat Control Services in Kiambu
GM Rodent control services in Kiambu. Rats and mice in particular can pose a threat to any commercial facility. From potential health and safety issues linked to rat and mouse droppings to millions of dollars in damages to machinery and structures. The worst part is that no commercial building is safe from a potential rodent invasion, making a professional rodent control program essential to the smooth operation of your organization.
Several commercial rodent control options are available from GM Kiambu, all of which are efficient, secure, and humane. These non-chemical rodent control approaches include exclusion, habitat alteration, and other techniques to get the job done; rodenticides are only used as a last resort and only when necessary.
GM Kiambu also provides a range of rodenticide-free choices in an effort to offer low-impact solutions. For further information, speak with the GM Kiambu location closest to you.
Services for Rodent Proofing and Exclusion
The possibility of a rodent infestation at your facility exists because rats and mice are able to squeeze into the smallest of spaces. The exclusion services offered by GM Kiambu will check your commercial property for any weak rodent pressure points, such as cracks in door seals and cavities within walls.
Fumigation and Pest control services prices in Kiambu.
| | | |
| --- | --- | --- |
| PEST TYPE | NO OF ROOMS | PRICES/KSH |
| CRAWLING PEST (bed bug, roaches, ants, spider, flea | 1 | 4500.00 |
| | 2 | 6,000.00 |
| | 3 | 7,000.00 |
| FLYING PEST( mosquitoes, bees, bats, wasp, flys, month | | |
| | 1 | 5,000.00 |
| | 2 | 7,000.00 |
| | 3 | 9,000.00 |
| RODENTS (rats, mice, squirrels, moles, snakes | | |
| | 1 | 4,000.00 |
| | 2 | 5,000.00 |
| | 3 | 6,000.00 |
| COMMERCIAL PEST CONTROL /FUMIGATION SERVICES | | |
| Per square meter | | 25.00 |
GM fumigation and pest control services facebook
Prequalification/Registration of Suppliers/Tender for the Financial Year 2023/2025