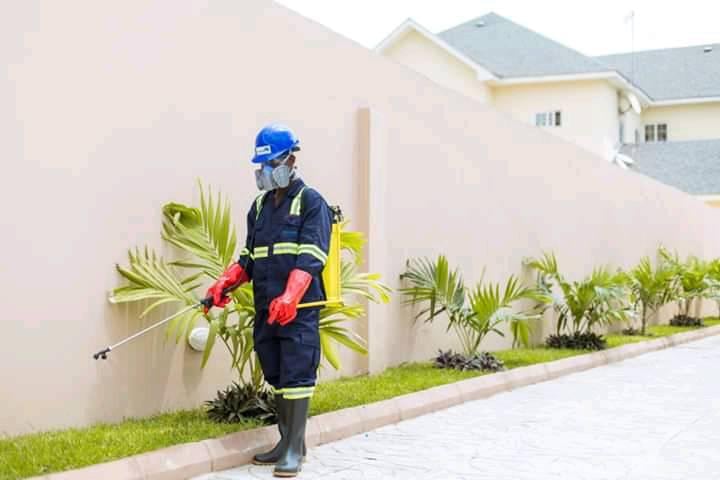 Professional Fumigation and Pest Control Services In Laikipia.
The professionals at GM Pest services are committed to provide the best pest control services in Laikipia, Isiolo and Nanyuki  but we also place a high value on ensuring customer satisfaction. We strive to instill confidence in each of our customers by assuring them that they will receive top quality services and a prompt response.
GM Pest control services is aware that no one wants unsightly vermin to invade their home. We are dedicated to preventing insect invasion at your home and office because of this. We take pride in offering one-of-a-kind pest control solutions that are affordable, environmentally friendly, and have long-lasting effects, so you don't have to be concerned about pest problems cropping up again in your home or place of business.
GM Pest is a recognized authority for commercial clients in Laikipia, Isiolo, Nanyuki and has a track record of providing outstanding residential and commercial pest control services. We are honored that our pest control business has won the Readers' Choice Awards on numerous occasions. Because we understand how unpleasant having a pest problem may be, our clients put their trust in us. As a result, we respond swiftly and complete the work correctly the first time. Carpenter ants, bed bugs, raccoons, skunks, wasps, mice, fleas, animals, cockroaches, carpet beetles, and other pests are just a few of the ones we specialize in controlling.
Bed bugs Control Services in Laikipia.
One of the most difficult pests to get rid of is bed bugs. This is because its incredible survival strategies! Its special life cycle allows it to withstand severe abuse even as an infant. Given that an adult can lay up to 5 eggs every day, its eggs are highly numerous. Despite the moniker "bed bug," it does not simply prefer to reside in mattresses, however that is its preferred setting. Boxes, couches, sofas, frames, dressers, and other items are also home to bed bugs. The best location for them to stay is anywhere they can conceal themselves and create a more "warm" atmosphere. In addition to the inside of the house, gardens may also be a place where these insects might flourish.
You can experience another bed bug infestation in the coming days if the extermination staff is unable to locate every potential nesting location. GM Pest Control is renowned for offering top-notch extermination services that are comprehensive and effective, leaving nothing behind—not even the eggs! Our staff can clean your mattresses, frames, sofas, and other potential breeding grounds, eliminate not only the live bugs but also the eggs, and provide the best bed bug extermination services in Laikipia. You may be confident that the specialists you called are the proper ones because they have almost two decades of experience in Kenya.
Cockroaches Control services in Laikipia.
Our Cockroaches Control services in Laikipia Nairobi team deploys best methods of eliminating cockroaches and their eggs completely. We use the latest modern equipment accompanied by safe insecticides to get rid of the disturbance from cockroaches and give you a peace of mind in a clean, safe house and office. Our cockroaches control services in Nairobi team will use both spraying and applying gel. We concentrate on the most infested area but also insist that the whole area including the manholes is done to be absolutely sure that the menace is dealt with completely. Depending with the level of infestation our technicians will advise on the process and weather a second trip is necessary. Our cockroach treatment has been a success over the years and our clients are always grateful after our technicians are through with the fumigation process. Is your house infested with cockroach? GM pest control services will handle this professionally ensuring that you space is cockroach free and give you tips on how to avoid such occurrence in the future.
Termites Control Services in Laikipia.
Pests consist of a variety of things. They can be very distracting, dangerous, and obnoxious. Pest issues shouldn't be left unattended for too long because the longer you wait, the harder it will be to entirely eradicate them. Aren't you upset that every time you place food on the table, ants swarm over it within a few seconds? They are difficult to get rid of, and occasionally all you can do is throw food in the trash, which is a great waste. You don't want to live in constant terror of pests, do you? If you can, you should start acting right away, and that's when Ant Control In Laikipia comes in.
What can the ant control services in Laikipia do for you? This is the location that would have the easiest access for you if you lived close to Laikipia. You may get expert pest control services from GM Pest Control. When it comes to removing pests, we only employ the best workers. We ensure that all of our staff members are qualified to get rid of any kind of pest that may be a problem for you. Whatever it is, we can handle it. We can take care of ant, spider, wasp, bee, cockroach, and rat pest control difficulties. Never be reluctant to get in touch with us and ask for assistance if you ever need it.
Start taking precautions for your food, appliances, and electronics. Even though ants are little, if unchecked, they can cause a lot of trouble. They can find where you put food every day, so it's best to enlist professional assistance before that happens. If you search for our website online and look up our contact information, you won't have any trouble locating us. For your convenience, we have given you our phone numbers and email addresses for our hotlines. If you want to discuss your pest problem with us and make appointments, you may also drive by our office in Laikipia. We are eager to serve our clients!
Wasp and Bees Control Services
Finding it difficult to get rid of pests? These are just regular issues that are difficult to manage, especially if you have no control over pests and their exponential growth over time. These types of issues shouldn't be ignored because the longer you wait to address them, the more difficult it will be. What if wasps and bees are the source of your issue? When you are in the wrong place at the wrong time, these bugs can do considerable injury to you. When you are close to Ontario, keep an eye out for Laikipia wasp and bee control.
When it comes to getting rid of those unpleasant bugs in your home or office, GM Pest Control only provides the best solutions. We are the best wasp and bee control in Laikipia, and we are capable of handling cockroaches, rodents, birds, and spiders. We provide every task we undertake our best effort. Because we exclusively work with experts when it comes to getting rid of these vermin, you shouldn't be concerned about pests returning. We'll make sure they never again fly in front of you, so you can be sure there won't be a wasp or bee in sight when you return home. Don't forget to ask us for assistance with Laikipia wasps and bees management; we are more than happy to help.
We place the utmost value on our clients, thus we go out of our way to attend to your needs as soon as you contact. Yes, we respond that quickly, and we work to complete the task as soon as possible rather than making you endure pest infestations for longer. You can always find our contact information on our website if you're interested in getting in touch. If you have questions or would want to schedule an appointment, you may also phone us at our hotline. We also strongly advise that you pay us a brief visit since it would only take a short trip for you to get there. We're happy to help you at any time!
Rat Control Services in Lakipia
GM Pest Control offers mice and rat control in Laikipia and other regions of Kenya. Regardless matter how minor or large the issue is, our organization is one of the few that can offer guaranteed answers to this type of situation.
Our ability to quickly and totally eliminate mice and rats from your property is something we take great satisfaction in. To get rid of all these pests, we at GM Pest Control don't just utilize poison or snap traps. We use our unique mouse control method, which has been shown to be effective, rather than these conventional solutions, which might even lead to other issues.
Rats and mice are cunning animals that can squeeze through tiny cracks and enter your property. Despite their apparent lack of risk, they can actually pose significant issues, especially as they start to nest.
You may already be aware that mice and rats' feces and pee can have a major negative impact on your health. Because they enjoy nibbling on electrical wires, wood, and even plaster, these pesky rodents can also harm your home's structural and electrical components.
With this in mind, the best course of action is to speak with a professional who can perform Mice and Rat Control in Laikipia or anywhere else right away if you want to avoid or minimize the costs connected with a rat infestation.
Are the rats and mice in your home making you sick to your stomach? If so, you need to get in touch with GM Pest Control right away to use our tried-and-true mice control service.
We promise that our professionals will carry out the required inspection steps and carry out the complete mice control service competently. Additionally, we provide warranties for all services we provide and charge our clients fairly.
Pick up the phone right now and call 0721979781 to use our services if you want to receive the best service possible.
Fumigation and Pest control services prices in Laikipia.
| | | |
| --- | --- | --- |
| PEST TYPE | NO OF ROOMS | PRICES/KSH |
| CRAWLING PEST (bed bug, roaches, ants, spider, flea | 1 | 4500.00 |
| | 2 | 6,000.00 |
| | 3 | 7,000.00 |
| FLYING PEST( mosquitoes, bees, bats, wasp, flys, month | | |
| | 1 | 5,000.00 |
| | 2 | 7,000.00 |
| | 3 | 9,000.00 |
| RODENTS (rats, mice, squirrels, moles, snakes | | |
| | 1 | 4,000.00 |
| | 2 | 5,000.00 |
| | 3 | 6,000.00 |
| COMMERCIAL PEST CONTROL /FUMIGATION SERVICES | | |
| Per square meter | | 25.00 |
GM fumigation and pest control services facebook